Discover Wellness, Done Well
Mar 17, 2022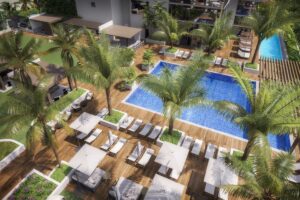 The Renaissance Residences Honolulu is filled with resort-quality perks. One of the biggest draws is a variety of distinctive amenities designed to center the mind, body, and soul.
At the Sky Terrace, located on the 8th floor, owners, guests, and visitors will revel in the selection of offerings at the spa, releasing the tension of the day in the Treatment Rooms, Himalayan Salt Saunas, and Steam Rooms.
The most exciting offering is the indoor and Outdoor Ofuro Soaking Baths. This social, relaxing spa is unique to the Renaissance Residences Honolulu, giving a memorable experience.
Wellness doesn't stop at the spa. The Pool Deck offers a grand heated saltwater Main Pool, two outdoor hot tubs, an adjacent 25-meter Lap Pool, and poolside cabanas that cater to lounging under the shade.
Additional amenities on the Sky Terrace include a state-of-the-art Fitness Center, an attached Yoga Studio, outdoor fitness area, beautifully landscaped green spaces, meditation garden, and much more.
A heavenly haven located in the heart of Honolulu, the Renaissance Residences Honolulu offers to revitalize, restore and awaken the senses.