The Official Full Renaissance Residences Honolulu Website
Jun 23, 2022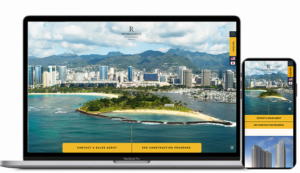 The official Renaissance Residences Honolulu website is now live, offering detailed information on the neighborhood, residences, floor plans and resort amenities.
The Pricing & Availability tab shows the current inventory of units on the Executive, Grand and Penthouse levels. A quick click of the unit number allows users to view a detailed floor plan, floor plate and approximate views.
Another interactive feature is the Points of Interest map, which spotlights some of the best dining, recreational activities, shopping and entertainment options near the Renaissance Residences Honolulu.
The website is also trilingual, with English, Japanese and Korean versions easily accessible from the menu tab on the right of each page.
Studios from $477,600 to $879,700
One bedroom from $781,200 to $967,600
One Bedroom plus Den $1,225,000
Two Bedrooms Sold Out
The information contained herein should not be relied upon in deciding to purchase a unit. All figures, renderings, maps, site and floor plans, photos, simulated views, images and other information depicted were developed for mockups and marketing purposes only to assist the purchaser in visualizing the residences and amenities. They may not accurately depict the project and may change at any time. All figures, facts, information and prices are approximate and are subject to change at any time. To the extent permitted by law, the developer disclaims all liability that may arise out of errors or omissions in the content hereof.

This is not intended to be an offering or solicitation of sale in any jurisdiction where the project is not duly registered or where such offering or solicitation would otherwise be prohibited by law.
WARNING: THE CALIFORNIA DEPARTMENT OF REAL ESTATE HAS NOT INSPECTED, EXAMINED, OR QUALIFIED THIS OFFERING.